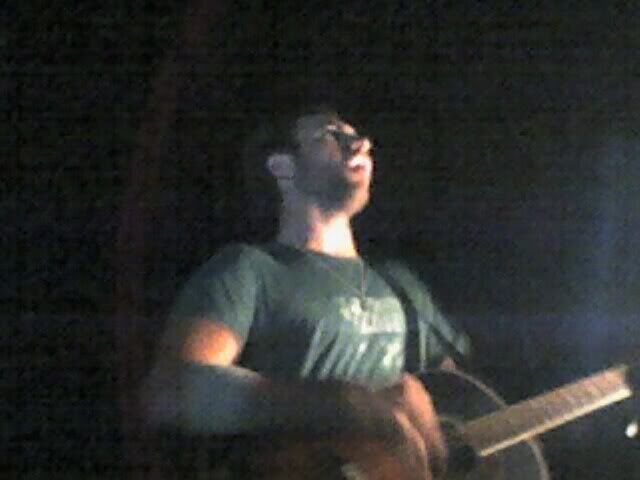 Let me set the scene. Tuesday night - House of Blues, Sunset Strip. Ryan Star opening for Cheyenne Kimball. I'm surrounded by Cheyenne teeny-bopper and tween fans who look and act so young that I feel like I'm ancient (thank god for these youthful Asian genes, though. I didn't look too out of place there.). A large group of Ryan fans are on the right side of the stage, I'm on the left, right smack in front of the keyboard, behind some teenagers.
Ryan comes out, sits down on the keyboard and sings "We Might Fall". It's beautiful. He's wearing the same shirt as Sunday, but hey, whatever. He's on the road. And he looks great in it. After the song, he pushes some button on the keyboard, and all of a sudden some techno-sounding canned music comes out. Ryan gets up and starts dancing from behind the keyboard. It's hilarious and sexy all at the same time. He sits back down and tells us that he got a special request for this song from Megan and that it's her 25th birthday. Megan happens to be standing right behind me, and she's beyond thrilled. It's her favorite song, "Famous Love". Ryan gets maybe a few notes in when POOF. The power goes out. I turn to Megan and say "Megan! What did you do?!" hahaha.
So we're all in the dark with just a a few emergency lights on. Many other artists would have just left the stage and thrown a hissy fit backstage. Ryan? He left briefly then just stood at the edge of the stage, played his guitar and sang his heart out with no lights other than a flashlight or two, no amplifier, no microphone. He did "O", then "Back Of Your Car". The crowd was singing along to help him out. (I sang the fast version. Oops! Forgot he was doing the slower one.)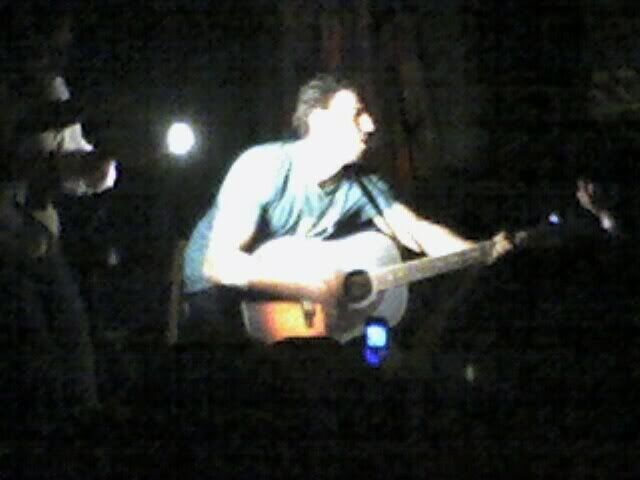 And he also did the uncensored version of both songs. "In a minute we'll be gone/So we might as well just fuck." Hell yeah! The moms of the tweens who were there to see Cheyenne may not have been impressed by the language, but the Ryan fans sure were! He tries to lengthen the song with some guitar playing, but still no power, so on to the next song - "Ride With Me", and I think this is where the lights finally come back on.
So with all of that, Ryan's set-list was pretty much moot. So he ripped it off the floor, tore it and asked if anyone wanted it since it was useless. Some lucky fan got it. That one is a keeper, for sure!
Once the power went back on, he got back behind the keyboard and re-did "Famous Love" for Megan. The finger snapping for this went much better than the one in Anaheim. LOL. After that was the brief piano version of "Enjoy The Silence". I was still hoping he'd end the piano part by kicking over the piano bench and rocking out, but I think he'll have to save that for when he has a full band behind him.
After "Enjoy the Silence", he has been doing "Back of Your Car/Ride with Me", but since he did that already, he had to go into something else. This must have been where he asked to see the setlist again. LOL. Some of us in the audience shouted out requests. Some guy wanted "Losing Your Memory" (dammit! Still haven't heard it live!), I heard a "Frog Prince" request, which would have been awesome as well. I shouted out for "The First Time". Ah well. What we did get, however, was a brand new song that he was playing for the very first time. I think it is called "Someone's Son" or "Someone's Song". And this is where I was really wishing I had my camera. Unfortunately, it got sniffed out by the security at the entrance. Dammit! I had it hidden pretty well too. Then I had to play it off like I forgot it was in my inside pocket of my purse, wrapped up in paper. Uh yeah. I recorded the song on my cell phone, but the sound quality is truly awful. After that (or maybe before?), he did "The Same When I'm Alone", which no one expected. I think it was birthday girl Megan who gasped along with me when we recognized the song. It was beautiful.
He did his other new song "11:59", which is my new favorite song. I got lucky in Anaheim, and the security people didn't feel up my tiny purse where my camera was hidden. So I recorded the whole song. You can watch it
here
. It's really a great song. I listened to it a couple of times after Anaheim and remembered quite a few of the words. I hope Ryan didn't see me singing along or he would have thought I was truly a stalker or Rain Man.
"Famous Yet" is where Ryan gets volunteers from the audience to play with him. My hand shot up when he asked. I think I was almost going to get called up because he and EE were looking my way, and I thought EE was pointing in my direction, but he was probably pointing at Megan the birthday girl. Oops. Psyche. Ryan specifically called her out to come up, though, so the lucky girl got to shake the tambourine on stage with him. He was really funny here. She was standing close to him, and he told her to step back because no one should upstage him. Hee! And she wasn't getting the beat right or she wasn't hitting it right, and I think he stopped and made a comment, and she playfully beat the tambourine on his head. It was very cute. What a freakin' awesome birthday. I don't know the girl, but I was really happy for her.
Back to the piano for "Sink Or Swim", which segued into "Losing My Religion". Still can't hear that song enough times. And then he thanked us for coming and said to look around at the people here because if he makes it big, this concert will be one that people were saying they were at, but they'd be lying. I really feel privileged to have been there for this show. It was truly one of the Top 2 concerts I've ever been to (sorry, Ryan, but Prince tops my list ... he sang for almost 3 hours!). Anyway, he closed with "So Ordinary" and then left the stage. But he changed his mind in a split-second and walked back on with a guitar and said "fuck it" and started to play "Head Like A Hole". Apparently, he ran over his alloted time because of the blackout, but he said to hell with it and kept playing. And thank god he did because ... hell yeah! That was a showstopper right there. The perfect way to end the show.
So post-show ... he's doing the meet and greet at the merchandise table, but it's still inside the concert hall, so it's a little loud. I made my way up there with my friend Maria. She bought a CD and shirt. I bought the Dark Horse CD even though I already have it through MSN downloads. I'm weak. I wanted a signed hard copy. I asked Ryan again about posting that 11:59 video. I wanted to make sure sure that he was ok with me putting it up online, and he said yeah. I know how some artists are about having bootlegs up, and especially with this being an unrecorded song, I didn't want to do anything to compromise anything. So I got the A-OK, and he said to send him a message through his MySpace to let him know where to get a hold of me in case he wants me to take it down. My reaction? Oh lord. Now I have to join MySpace?! I have philosphical issues with that site. Oh well. Guess what? I caved. I joined. I am weak around him, I tell ya!! So anyway, while I was talking to him about this, I realize I didn't buy the CD and have him sign it, so I go back a little bit and make the purchase and ask for the siggy. He signs it and leans in and asks how to spell my name. I am talking into his ear and trying to tell him but it's super-loud, but he winged it pretty well. He made the Z look pretty ambiguous and then added what looks like a question mark underneath it. Hahaha. So I said thanks, and as I left, he gave me a little shoulder squeeze/rub. Oh yeah. Good thing I had no stairs to walk down like last time. Hee!
So that's it for my Ryan Star concert adventures, I'm afraid. Can't go to San Diego on Friday, and everything else is too far away. I'd love to go to his Homecoming Show in NYC, but a) too far, and b) gotta work. Whoever gets to go to that show is going to get one hell of a show, I bet.