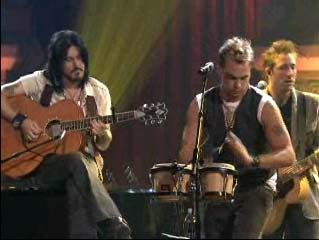 After an motivating and raucous trip to Las Vegas, site of Supernova's debut concert on New Year's Eve, the rockers went from the flash of Sin City to performing unplugged on the Rock Star stage. Would they be able to transition?
Zayra Alvarez
"Lluvia De Mar"
Tammy:
While this was a lovely song, and Zayra sang passionately and (mostly) in tune, part of her appeal, for me, are her crazy antics which are so entertaining to watch. Tonight she was more seriousand was lacking her usual spark that makes her performances so memorable. Her choice of a song, which is so not Supernova, practically screams that she has no intention of becoming their new lead singer. Which is fine, because she's better doing her own Planet Z thing anyways.
Score:
8.5
Liza:
Singing her original song, Zayra sounded the best she has ever had in the competition. Unfortunately, the song just doesn't fit in this competition. It's beautiful, but a Spanish ballad just is not roit for Supernova. And I agree, she's more entertaining when she brings the crazy.
Score:
8.9
Magni "Starman"
Tammy:
Looking very Miami Vice clad in a white suit, Magni has a bit of a step down from last week, and he never seems particularily comfortable covering this Bowie tune and appears almost relieved when it's over (that makes two of us). This is a song on which Magni could have shown a lot of personality, and instead sang it straight, making for a bit of a ho-hum performance (read: boring).
Score:
8.2

Liza:
Gilby nailed it in his critique. Magni's solid. Sometimes he's spectacular, like last week. This time, I thought he was "just" solid. He sounded a bit muffled in the beginning, but took it
up a notch later on. I'm not a fan of the song, but I'm a fan of Magni. He's just such a likeable guy.
Score:
8.0
Patrice Pike
"Message In A Bottle"
Tammy:
Speaking of ho-hum. Patrice delivers another lifeless performance this week and might as well pack her bags right now. She's never seemed to match the intensity of 'My Iron Lung, and it's hard to understand why. It's difficult to watch her struggle each week, because based on that previous dynamic performance, it appears she's capable of much more, and yet is unable to tap into it when it matters most. Perhaps she needs the fire lit under her that a trip to the bottom three would provide.
Score:
7.5
Liza:
Tommy Lee's look mid-song said it all. He was obviously bored. I usually am when I watch Patrice, so I feel his pain. I didn't even think her vocals were all that great. She certainly has sung better than this. Bottom line is the girl is very forgettable.
Score:
6.8
Lukas Rossi"Hero"
Tammy:
Seated in what is more a kitchen chair than a stool, Lukas this week chooses to sing one of the most overplayed songs in recent years and manages to put his own unique spin on it. The stripped down version of 'Hero' emphasizes his vocals and highlights the lovely softer quality which he possesses. The performance was hindered by the odd seating arrangement, however, as his physicality is one of the most entertaining aspects of his performances. Still, an incrediblty charismatic performance.
Score:
8.8
Liza:
I agree that the arrangement emphasizes his vocals, but for me, that isn't a good thing, because Lukas closed up his damn throat again. He hit this one really bad warbly note that made me totally cringe. On a positive note, I really liked what he did with the arrangement, and he made a Chad Kroeger song tolerable for me, and that is saying a lot. Hee! On the seating arrangment. It made him look about 4 feet tall.
Score:
7.8
Storm Large "I Will Survive"
Tammy:
Oh my. This is all sorts of terrible. It appeared that Storm never really decided upon an arrangement, and had three or four versions at once, as she threw in growling, a diva note at the end, and had an overall lounge singer quality as she sang. Add to that the misguided pantsuit and bizarre drunken stage moves that only Lukas can pull off, and it just appeared that Storm was flailing about, hoping that anything she did would work under the 'something for everyone' mentality. The end result was a bit of a mess.
Score:
6.8
Liza:
The song did start out like a lounge song, didn't it? That is becoming kind of a trend for her. and it didn't get much better. This was easily Storm's worst performance. But I can't really fault her for this because I don't think ANYONE, even master re-arranger JD Fortune, could have turned this into something decent for this show. Whoever put this up on the board is sadistic.
Score:
5.0
Toby Rand "Solsbury Hill"
(with Gilby Clarke on acoustic guitar)
Tammy:
Toby looked a wee bit terrified to be performing with Gilby, and seemed like he was waiting to exhale throughout the song. While he started strong, vocally seemed a bit off towards the end and sounded a bit rough. The bongos were an interesting touch. While they didn't really add to the performance, they didn't really detract from it either. They were just...there. Kinda like Toby himself.
Score:
7.0
Liza:
Would it have helped if he was playing the bongos naked? Heh. I actually quite liked it. I thought his vocals were tailor-made for this song and that he did a great job on a really difficult song. I loved the bongo drums bit, although I suspect that Tommy wasn't too thrilled with the possibility of someone out boating the show on percussion.
Score:
9.0
Ryan Star
"In The Air Tonight"
Tammy:
Ryan once again is working his 'intense' vibe, and has chosen the perfect song with which to showcase himself. 'In the Air Tonight', while not as strong as his earlier 'Losing My Religion', was nonetheless one of his strongest performances on the show and proved that he can't be counted out quite yet, even after a trip to the bottom 3 last week.
Score:
9.2
Liza:
Yes, this song was perfect for Ryan. And Ryan looks perfect tonight too. Yowza. And he even smiled! What I really liked about this was that he showed a nice variety of intensity and softness. The stage lighting was great too, and big props to Nate for that killer drum solo. What Gilby said about Ryan's voice being strong and cutting through ... I think that's an interesting point because some of the others don't have the ability to do this as well as Ryan does.
Score:
9.5
Dilana"Cat's In The Cradle"
Tammy:
Remember as a child, when everyone at the dinner table would be munching away, and you'd watch as they'd merrily eat their, oh I don't know, broccoli, for instance, and so you thought, 'hey this must be good, look how much they like it!' So then you'd take a bite, can barely swallow it, and wonder what kind of crack your family is on to be liking this stuff? Dilana is my broccoli. I just do not get the lavish praise thrown at her. Every performance sounds the same. Tonight, we got the addition of some mucked up lyrics, and needless 'c'mon' and 'woo's screamed at us for good measure. Meh.
Score:
7.7
Liza:
BWAH!!!! I kind of agree, actually. Goose bumps? Um, okay. I mean, her voice sounded great on this (except on those low notes in the first verse), but she mucked up the most well-known lyric in this song! "The cat's in the cradle and the silver spoon" became "The cat's in the cradle and the silver moon". And she threw in an inappropriate Diana DeGarmo-like "Come on!". Other than that, and disregarding Ryan, Zayra and Toby's performances, it was the best of the night.
Snort
.
Score:
8.7
Who Should Be The Bottom ThreeTammy:
Dilana, Storm, Toby
Liza:
Storm, Patrice, Lukas
Who Will Be The Bottom ThreeTammy:
Zayra, Storm, Patrice
Liza:
Patrice, Zayra, Toby
Who Should Be EliminatedTammy:
Patrice
Liza:
Patrice
Who Will Be EliminatedTammy:
Patrice
Liza:
Patrice