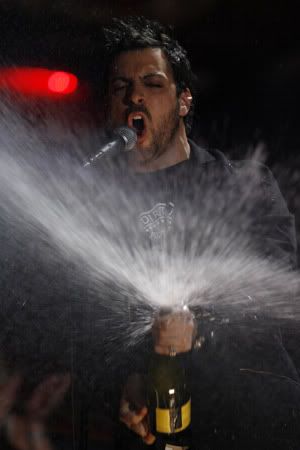 Despite a string of memorable performances and the biggest growth process of all of the contestants, the Dark Horse's star fell, and Ryan Star was eliminated from Rock Star: Supernova.
A fetching Brooke Burke announces that last night's vote produced the most amount of votes in the two years of the show. I am not surprised in the least. The massive amount of voting last night drop-kicked the server for a bit.
In the recap, Brooke says that Dilana offers a heart-felt apology. Funny, but I didn't actually hear her say the words "I'm sorry" there. Just that she fell hard and that she'll come back stronger. She did say she'll never hurt them again, so I guess that counts. As far as the performances go, Brooke lauds the strong performances from each performer but notes that Toby stole some thunder from Storm. Toby toasts to everyone kicking ass last night but notes that half of them will be in the bottom 3. Storm thinks it will be her leaving. Ryan is preparing himself for the bottom 3 but isn't prepared to leave. Toby thinks it will be a shock if Lukas makes the bottom 3, but Lukas thinks he could be but that he'll take it like a man.
Dave Navarro congratulates the rockers for the best performance show they've ever had. He notes that Storm Large has never been in the bottom 3 but that every week she stands up she seems like she wants to sing. Storm says that any chance to rock out with the band is good for her and says she wants to be in the bottom 3 so she can "kick the snot out of something." Dilana says she will cry tonight when someone leaves. Magni and Dave bust out their proverbial measuring sticks and start in on the verbal sparring. Dave gets the last word and tells Magni that he's been lying all this time and he DOES have a say in the voting. Magni immediately gets up and pretends to leave.
After the fun and games, the the band chooses Lukas Rossi to sing a new Supernova song, "It's On." And the third time is a charm, and we finally see a glimmer of hope out of the Supernovans. I'm not sure I see a lot of chemistry with Lukas and the guys like we did last year with JD and OB: INXS, but the song was the best of the three we have heard so far.
Before the encore is chosen, Gilby Clarke announces that the remaining rockers are going to go with him to Gibson for a songwriting clinic, and each of them will write a song with him. Which makes Ryan's departure all the more bitter because that guy is a great songwriter. But anyway, Toby Rand gets the encore and brings an immense amount of energy, running all over the studio to sing, including the very back where the stuffy suits sit. They even get up on their feet and are waving their arms.
The initial bottom 3 members are called out, and it's Ryan, Storm and Lukas. They all take it with smiles while the audience boos. Others join them in the bottom 3 - Toby and Dilana. They are less than enthusiastic but take it well. Only Magni is safe, and once he realizes that, he yells out a very surprised "WHAT?!" while the others congratulate him. The Iceman was saveth!
The first member of the final bottom 3 is Ryan. He promises to "blow their minds", and he sings "Baba O'Riley". And proceeds to make a big mess out of it. Literally. He takes a bottle of champagne and sprays it all over, and Toby runs over to take a swig and then takes the bottle to the rocker pod. Ryan is concentrating so much on creating a show that his timing is way off, especially as he climbs up on the tall speaker. And when they cut to a displeased/bored-looking Gilby you just know Ryan is in deep trouble tonight.
Storm picks "Helter Skelter", continuing her trend of not picking anything that was recorded in the last 20 years. She sounds good on it, though, and wanders through the crowd to sing on the Supernova pod and finds herself on Tommy's lap. Smart girl.
The final member of the bottom 3 is not Toby, so one of the long-time front-runners will be making their first bottom 3 appearance. It's Dilana. She gives Lukas a kiss on the cheek on her way up to the stage to sing. This is fallout from Dramalana. "This is my redemption", she promises. This is a last-minute choice for her, and she's going to sing "Psycho Killer" by Talking Heads, which she dedicates to herself. This makes me a bit uneasy. Haha. She sings the opening a capella before the House Band kicks in, and then she starts making some very weird animal sacrifice noises in this song, and none of the Supernovans look happy at all. It is a very odd choice, that's for sure. The crowd doesn't seem that into it either. I think Storm is the only person in the room who knows this song, which is not a surprise, as she is the encyclopedia for obscure songs.
Supernova comes back with a decision, and Gilby offers up praise for Ryan's performance, saying it was one of the best audience receptions they have seen, but they wonder if he's the right fit for the band. He tells Storm that she has been solid but they haven't seen much growth. And he tells Dilana that in her out-of-left-field choice she got a little lost, but she's built up a lot of credit with them. Gilby then turns it over to the Tommy-hawk, who starts with Ryan, saying he's shown the most growth in 9 weeks ... but ... he's the next to go. The other boys look shocked, the audience boos. Dave tells Ryan that he's the most evolved contestant they've ever had on the show and that he knows he'll do great. Ryan thanks Dave especially for his support. Ryan's parting words to Supernova, however, have a tinge of bitterness, and he tells them that with him as their singer, he thinks they could have made 20 more years of good music (20
more
years? I have yet to hear one minute of good music!), and he's sorry for that but he respects their decision. He is going to go back to being a solo artist, and he'll see them on the record charts "because that's where I'll be hanging out." Oh boy. That's what they say on American Idol, Ryan, and that never happens. I sincerely hope he has a better fate than those suckers. Ryan may not have been right for Supernova, but from what I have heard so far, that's not a bad thing.