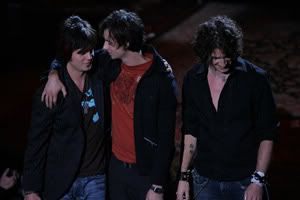 Chicago real estate broker Matt Hoffer was the first rocker eliminated from Rock Star: Supernova on Thursday. Matt, who sang "Yellow" by Coldplay in the performance show, showed good vocals on the soft rock song, but the band was concerned about the song choice and told him to bring something rockin' the next time.
The next time came a bit earlier than most thought, as Matt was one of the three members of the viewer-voted bottom three. Also in the bottom three were Chris Pierson, who unsuccessfully re-arranged "Roxanne" by the Police, and Phil Ritchie, who showed little personality on Living Colour's "Cult of Personality".
This season, the bottom three vote-getters choose their own song to save themselves, a departure from last season, where they had to sing an INXS song. So this was their chance to show the band what they are all about.
Chris, who voiced over earlier in the show that he was there because he's one of the best singers in the world, was the first to sing, and he chose "LA Woman" by the Doors. While his boastful statement did not exactly ring true (none of these people can really say they are one of the best SINGERS in the world), he definitely sang better than he did the other night, although that does not say much. And he at least showed a harder edge that is more along the lines of what Supernova seems to be about. The spraying of the water from his mouth into the crowd, though? First of all, don't copy Sasha. Second of all, Sasha didn't spray his germs directly into the crowd!
Phil was next up, singing "Stars" by Switchfoot, who Tommy Lee says he loves, quite gushingly. Huh. Go figure. Tommy seems to love Phil's performance as well, although Phil doesn't do anything all that impressive to me. I think Tommy just likes the song.
Matt is a surprise choice to be in the bottom 3, but what was even more surprising was his song-for-survival choice. In light of the band's request to rock harder the next time, he chose ... Duran Duran? Now, I love me some Duran Duran, but Matt obviously didn't read this
article
in the Calgary Sun in which Dave Navarro says, "What they chose and how they perform it will say more to Supernova than if they had to do one of their songs because if someone picks a Duran Duran song, I am simply going to say, 'You want to join Tommy Lee, Jason Newsted and Gilby Clarke and that's the song you choose?'". I knew Matt was sunk immediately. His take on "Planet Earth" was too pretty and so not roit for their band Supernova. It's a shame to lose talent like Matt so early. He has a great voice, but this wasn't the band for him.
After the band deliberates, Phil is the first to return to the rockers' pod, which is no surprise after seeing Tommy rock out during the song. The band reaffirms the importance of song choice and cuts Matt, who takes it well. Matt's partings words were sweet and classy, and he tells the band that their posters were up on his walls when he was a teen and that he doesn't mind losing to the other rockers because they deserve to be there. Tommy, who genuinely looked upset at having to cut people loose, tells Matt that he didn't lose, that it just wasn't the right time.
The result show wasn't all about the elimination. Early drama has popped up within the rockers, and we're only one week in. Early front-runner Lukas stirred the pot in the mansion after the performance show, asking some of his fellow contestants who they thought should be in the bottom three. Dana refused to answer, and Matt got in his face and told him to answer his own question. Lukas finally said something about how he has talent and how a lot of the others sucked. Then he went one step further on the stage by naming names after Dave asked who he thinks should be in the bottom three. He said one knows it (Chris) and the other two are clueless (Dana and Jenny).
Wow. One good performance in and Lukas is already bringing out the asshat, massive ego and gamesmanship? Even JD waited till he got at least two awesome performances before playing the game that hard. Monday's reality episode (aka the fallout) will be VERY interesting.