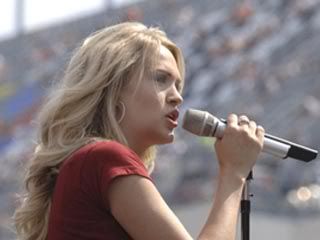 A day late, yes, but on the 5th of July, I thought I'd put together a compilation of National Anthem performances I found on You Tube. And to narrow it down a bit, these are all American Idols singing.
From best to worst (unfortunately, You Tube is not hosting the best Idol anthem I've seen, hands-down ... the one by the AI4 finalists minus the Top 2 at the Coca-Cola 600. The harmonies are just beautiful):
Anthony Fedorov
(2006 Dodgers game) - He always sings it well and handles the high notes with such ease and even takes it up higher than most do. Impressive vocals.
Lisa Tucker
(2006 Angels game) - The jets are the focal point of the video, but Lisa's voice is remarkable when you can hear it. Listen to how long she holds "land of the free".
Carrie Underwood
(2006 Nascar) - Lovely and effortless
Josh Gracin
(2005 Nascar) - Countrified version but strong voiced and pretty meaningful coming from an ex-Marine
Bo Bice
(4th of July) - Nice and straight-up with a bit of a southern rock flair
Clay Aiken (Carolina Hurricanes game) - A bit bombastic and "look at me I can sing!" but sung effortlessly
Fantasia Barrino
(2004 MLB All-Star game) - Her diction is weird, and it sounds like she sings "the lamparts we watched" and the "rockets led glare". Nice ending though
Kelly Clarkson
(2005 NBA finals) - Some interesting phrasing disguised as soulfulness, I guess. Her voice cracked at the end
Kellie Pickler
(Idol homecoming) - She sounds like Reba. One of her better vocal performances until the end, when she veers out of tune
Diana DeGarmo
(2004 Nascar) - A bit over the top and shouty
Tamyra Gray
(Atlanta mayor inauguration) - After her monstrosity of an anthem before the season 3 AI finale, I always worry when she sings this. She sang it like a death march. She has a tendency to sing oh so very slow
Elliott Yamin
(2006 NBA Finals) - He had to turn that into a melismatic mess after he started it too high. I prefer my anthems sung where I can recognize it
Ace Young
(2006 Colorado Crush game) - Very breathy and missing notes. The singing of the song as if he's singing a love song to some pre-teen, complete with his usual schlocky arm movements, is very inappropriate