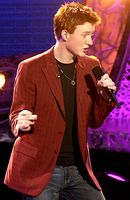 AOL published the
Vote for the Worst's Top 20 Most Awesomely Bad American Idol Performances
.
The Top 20:
1.
John Stevens
– "Crocodile Rock"
2.
Juanita Barber
– "What About the Children"
3.
Janay Castine
– "Hit Em Up Style"
4.
Bobby Bennett
– "Copacabana"
5.
Jasmine Trias
– "It's Raining Men"
6.
Kevin Covais
– "Part Time Lover"
7.
Rodesia Eaves
– "Daydream Believer"
8.
Lisa Wilson
– "Come to My Window"
9.
David Radford
– "Crazy Little Thing Called Love"
10.
Kellie Pickler
– "Bewitched, Bothered, and Bewildered"
11.
Scott Savol
– "She's Gone"
12.
Ace Young
– "Drops of Jupiter"
13.
Sylvia Chibiliti
– "Didn't We Almost Have It All"
14.
Jon Peter Lewis
– "A Little Less Conversation"
15.
Carmen Rasmusen
– "Can't Fight the Moonlight"
16.
Anthony Fedorov
– "Climb Ev'ry Mountain"
17.
Kellie Pickler
– "Bohemian Rhapsody"
18.
Tamyra Gray
– "New Attitude"
19.
Constantine Maroulis
– "Hard to Handle"
20.
Nikki McKibbin
– "Always Something There to Remind Me"
I can't argue too much with the inclusion of any of these, except for one - Scott Savol's "She's Gone". That was my favorite Scott performance. I understand that Vote for the Worst practically owes its popularity to Scotty the Body and thus needs to include him on their list, but I don't think anything Scott did warrants inclusion on this list when
Jim Verraros'
dreadful "Easy",
AJ Gil's
"All or Nothing" with that hideous laugh, and
Ryan Starr's
tuneless attempt at being a rocker on "You Really Got Me" aren't even on here from season one.
And where is
Jennifer Fuente's
"I Want To Dance With Somebody"? Who will ever forget her actually busting out with that line "DANCE!" Or
Trenyce's
"I Need You", where she sang "I need you like murder, like breath, like rain"? Or
Josh Gracin's
white men shouldn't dance "Celebration"? No
Roman brothers
?
John Stevens gets the "distinction" as No. 1. Frankly, I'm surprised he doesn't have more performances in there because "Lately" and "My Girl" were both abominations. Kellie Pickler is the only one with two songs. Yet, SHE recently got signed to a recording deal while everyone in the Top 12 from season 4 except Carrie Underwood and Bo Bice remain unsigned. How exactly does that work?!