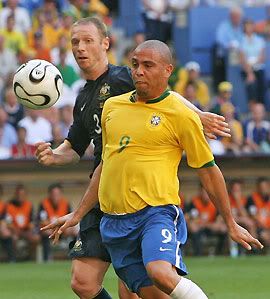 10. Soccer is one of the few male sports where weight apparently matters. The Brazilian president "weighed in" on Ronaldo's weight gain, asking his teammates if he was fat. He's 198 pounds. That
is
kinda big for a striker. But he's not fat, he's big-boned! ESPN in-studio commentator Eric Wynalda went off on USA coach Bruce Arena on several different occasions after the U.S. was eliminated. One of his rants on the Mike and Mike morning show included something about the "fat" coach making faces on the sidelines. Wynalda also said he wanted heads to roll down the street. While I agree in theory that the U.S. had a horrible showing and things need to change, it makes me laugh to hear Wynalda say it like that. Because, um, wasn't Wynalda on the 98 team that came in dead last at the World Cup?
9. The English players' wives and girlfriends (aka the WAGs) are the equivalent of Hollywood's Lindsay Lohan, Paris Hilton and Tara Reid. They shop all day and party all night. And they get as much pub as the English team. They make
tabloid headlines
such as "WAG rage" after being stranded at an airport and getting treated worse than "a dog" while their plane was being refueled.
8. England's win over Ecuador this weekend may be attributed to the WAGs after all. Ecuador had a six week sex ban imposed upon them by their manager, and they left the wives and girlfriends home so as not to distract them. Hmm ... looks like the distractions worked, since England won 1-0 on a David Beckham free kick that he bent like ... himself.
7. Watching soccer is so much better on KMEX or Univision than on ESPN or ABC even if you don't understand anything more than "GOL!!!!!!!!!!!!!!!!!!"
6. Even if you watch World Cup games on the Spanish channels, you cannot escape that annoying Taylor Hicks Ford commercial. I cannot wait till Ford's blasted clearance is over!
5. I need to go back to Geography class because up until the World Cup, I had no idea where Tunisia and Togo are (in Africa).
4. If you need to score some goals to advance in the tournament, you shouldn't play a 4-5-1. Oh wait, I already knew that (BRUCE!)
3. If this new soccer ball they are using at the World Cup is supposed to make it better for players to strike from long distance (as we have seen with so many long-range bombs that have gone in for goals), you should at least try one long-range bomb if you need to score goals (U.S. TEAM!)
2. If you wanted to get lots of U.S. fans together to watch a World Cup game, you'd get way more people for a Korea or Mexico match than a U.S. match. Just contrast the live shot of the Korean fans at the Staples center last week to the ridiculous shot of people going about their business on Times Square for the last U.S. match. Or even to the shot of a few people in a tent at Columbus Crew stadium.
1. If you're playing for the U.S. in Europe, you're screwed. Everyone hates you, including the referees. And the U.S.-based announcers who are former National Team players (ERIC WYNALDA!)